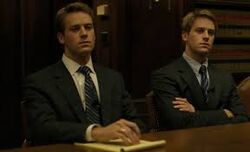 Cameron and Tyler Winklevoss are a set of twins who were attending Harvard University alongside Mark Zuckerberg and Eduardo Saverin.
Some point before the film starts the twins along with Divya Narendra are trying to build a social website exclusivity for Harvard students. We find out that they've had at least two different programmers, one that went to work for Google and one that just got overwhelmed.
The twins read about Mark Zuckerberg via the harvard newspaper's article about the Facemash incident, and recruit him to build their website.
Ad blocker interference detected!
Wikia is a free-to-use site that makes money from advertising. We have a modified experience for viewers using ad blockers

Wikia is not accessible if you've made further modifications. Remove the custom ad blocker rule(s) and the page will load as expected.